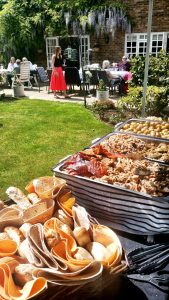 Hello to all of you and thank you for considering Hog Roast Kettering. We would first like to take this opportunity to welcome each of you to our page. Hopefully, we can provide answers to any questions you have.
Hosting or organising any event can be tasking to say the least. Whether it is a special occasion or even a business gathering, there can be so much to consider. When it comes to catering though, your friends here at Hog Roast Kettering are on hand to relieve that stress.
Our attentive and dedicated staff are on hand to help put together a thrilling feast for your event that both you and your guests will enjoy and remember for years to come. With over twenty-five years of company experience, we are confident in providing you with the most incredible service. So, if you are hoping to secure tasty food, conscientious staff, trust-worthy service, and a roast to boast about; look no further than Hog Roast Kettering.
Catering for Your Event
There are so many things to take into consideration for your event, with a variety of people all having different tastes and preferences attending your day. No matter who is invited, rest assured that our knowledgeable and enthusiastic team are ready to put their expertise into action and make sure your day goes off without a hitch. Our events staff and chefs will ensure all the worries you have regarding the catering for your event are taken care of, freeing you up to enjoy the day.
So, what are you planning? These are just some of the types of events we can cater for: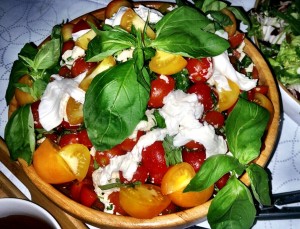 Weddings – Say "I do" to Hog Roast Kettering and have us provide a bespoke menu for the happiest day of your life. Your guests will speak for years about how they enjoyed the ceremony, admired the first dance, and absolutely loved the food. The senses our hogs stimulate will find their way to your memories year after year.
Corporate/Charity Events – So you are celebrating ten years since the company began or launching your charity's latest campaign; We are here to help you. Let your guests know who you have hired to cater and watch the attendee numbers soar. Our hog roasts can also be a terrific ice breaker, bringing relative strangers together as they tuck into their dinner.
Indoor/Outdoor Events – We are ready and equipped to cater for your day, whether we will be under the lights or under the stars. The scent of our roasts will travel through any arena, enticing your guests. We aim to provide the same level of superb service no matter what size your event is. Speak to one of our staff members today to find out how everything will work for you.
Home Parties/Private Venues – Once again, we aim to provide the same wonderful service no matter the size of your event. Our equipment takes up a relatively minimal amount of space, meaning we can potentially cater for almost any event. If you have any concerns regarding where you would like to have us, get in touch and we will put your mind at ease, using our wealth of experience to help you get the catering you want. We do all we can to provide everyone in attendance with incredible food.
Equipment Hire with Hog Roast Kettering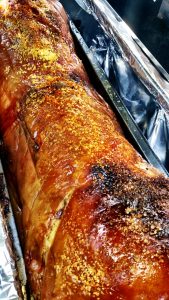 Would you like to personally fascinate your guests for the day? Enquire to hire the hog roast equipment yourself and entertain everyone with your culinary skills. One of our friendly and helpful staff members can make all the arrangements so this can be a very real possibility for you. We will deliver the equipment, set everything up, and our experts will even provide you with a tutorial, so you know exactly what to do. We will also deliver the hog itself, as well as any other food and ingredients you may have requested.
We can even include tables, chairs, gazebos for you to use. We will even pick everything back up when you are done. Give us a call today and see what we can do for you.